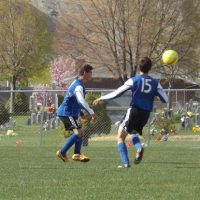 The Carbon boys soccer team took to the field for the first time last week playing three games in as many days and coming out on the losing end to start the season 0-3.
Starting on the road last Thursday at Providence Hall in Herriman Carbon came away with an 8-0 road loss. Providence Hall sits atop the region 14 standings early in the season at 2-0.
On Friday they headed south for the first of two games as part of the St. George Tournament hosted by Hurricane High School. In game one, they faced the Sky View Bobcats, a team from region 12 in the 4A ranks. The ending was not much different as they were defeated 4-0.
Saturday, the final day of the tournament, they played the Canyon View Falcons, the second place team from region 9 in 4A, and though it was a hard fought battle the Dinos came out on the losing side 3-1.
The Dinos find themselves starting the season 0-3. After last seasons 12-4-2 campaign, in which they made it to the quarterfinals and eventually lost to Morgan 1-0, the Dinos will need to rally to put themselves in a position to compete this season.
The Dinos now look forward to a home game today March 12 against Maeser Prep. at 3:30.