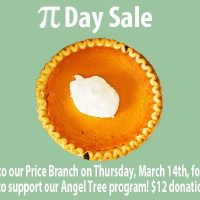 The community is invited to stop into Eastern Utah Community Credit Union located at 675 East 100 North on Thursday, March 14 beginning at 9:00 am for their Annual "Pi" Sale Fundraiser.
"We raise money all year long, it takes quite a bit to do what we do, so we are always looking for opportunities to get out there and raise some money," said Cindy Dayley, Representative from EUCCU.  "This presented itself a couple of years ago, we realized, hey 'pi' day, we should make pies. So, it's worked out really well for us so we're going to hope it continues to work out well for us."  The cost per pie is $12.00 each and customers may have their choice of pecan, apple, cherry, banana cream, chocolate cream, peanut butter chocolate cream or coconut cream.
All proceeds from this event go to the Angel Tree Project. "It's through United Way and we adopt about 100 to 175 Angels out of United Way's Angel Tree Program every year. What we do is just coordinate and then any gifts that aren't purchased or if one child gets more than another or if Angels are left on the tree we go and shop for those kids," stated Dayley. EUCCU has been a huge sponsor of the United Way of Eastern Utah Angel Tree and hosts several different fundraisers throughout the year in order to be prepared for the coming year's Christmas.
To reserve a pie or for more information on the "Pi" Sale call 637-2443.