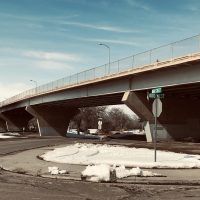 Beginning Monday, March 11 construction crews began the bridge rehabilitation project on the West Price Bridge.
The first tasks on the project involved moving equipment onto the construction site, preparation of the job site, placement of traffic control devices, and the construction of a "false deck" placed under the bridge to catch any debris dislodged during demolition.
While almost all debris will be lifted onto trucks by large "grabber" buckets mounted to track hoes, a small amount of light debris could fall. The false deck eliminates any debris from falling to the ground below.
Bridge Closure and Demolition Begins March 18
As early as Monday, March 18, crews will begin demolition of the bridge deck by ensuring all detours are signed and removing the existing fence and parapets of the bridge. Following special equipment will remove the existing asphalt and finally saw cutting and removal of the old concrete sub-deck will occur.
Safety Reminders to Our Neighbors
Safety on and around the project is the number one priority for motorists, pedestrians, construction crews and UDOT personnel.
Please note these precautions:
– No Pedestrians are allowed on the bridge once the closure is in place.
– Motorists will not be permitted on the bridge until it reopens later this summer. Please use the detours that will be in place.
– Avoid stopping or parking immediately under the bridge deck at all times.
– Watch for heavy equipment entering and leaving the project. Be careful not to follow trucks into the project area.
– Watch for occasional flagging operations and please observe their instructions.
UDOT has established a project-dedicated public information team for this project. For more information, please contact us.
Phone: 800-292-3557 or 801-712-3030
Email: pricebridge@utah.gov
Website: www.udot.utah.gov/go/pricebridge