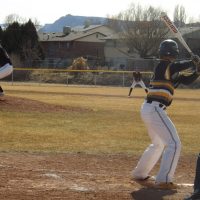 Cold weather and high winds proved to be no problem for the Emery Spartans in a home double-header sweep over the Grand Red Devils Wednesday afternoon in the Region 15 opener.
Scoring seven runs in the first two innings of play the Spartans blasted past Grand 15-5 in the first tilt of the day. The momentum carried into the second contest as Emery doubled up the Red Devils 12-6.
"We played really well and the results produced good baseball," said manager Rob Smith. "We challenged the kids to have four errors or less and they did it."
Cade Brazier pitched a complete five inning contest, allowing just five hits and two earned runs to pick up the win on the mound. Run support was key out of the gate as the Spartans played with a susbantial lead throughout.
Senior Koda Alton went yard once in a 2-2 effort that included five RBIs at the plate. Riggs Griffin finished 2-4 with two singles and two RBIs. Bron Gordon also laced a double for his only hit of the game, plating two runs in the process.
"We really stressed to take it to them in the first game of the set," said Smith. "We put them in a hole and took it to them in the second game too."
Alton delivered from the hill in the second game of the double-header, pitching 6.2 innings. Allowing just two earned runs, Alton was dominate with 11 strikeouts, while giving up just two hits.
Senior Kyson Stilson finished 3-5 at the plate with two singles and one double. Teagan Christman ended 2-3 with one triple and two RBIs. Gordon again brought in two runs after going 1-4 in the box.
The two region wins move Emery to 4-2 overall, but more importantly 2-0 in Region 15 play. The Spartans will have an opportunity to move to 3-0 with another home region contest on Tuesday against the North Sanpete Hawks.