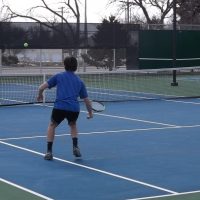 The Carbon High School boy's tennis team participated in the first home meet of the season Thursday, welcoming in the Uintah Utes for an afternoon of competition.
Jack Christensen gave the Dinos its lone win at the varsity level, defeating his opponent in three sets; 7-6, 1-6, 6-1. Fellow single players Carson Martines and Bonham Brewer suffered losses in straight sets.
Jack and Leonard Livingston fell in straight sets in the doubles competition; 0-6, 2-6. Nate Cowley and Connor Fausett also dropped a set straights contest; 2-6, 2-6.
The Dinos will continue the tennis season with another home meet as they welcome in Union and Manti on Friday, March 22.
Below are the complete varsity and junior varsity results from Thursday:
Varsity Singles:
Carson Martines- Loss: 6-7, 4-6
Jack Christensen- Win: 7-6, 1-6, 4-6
Bonham Brewer- Loss: 3-6, 1-6
Varsity Doubles:
Jack Livingston and Leonard Livingston- Loss: 0-6, 2-6
Nate Cowley and Connor Fausett- Loss: 2-6, 2-6
Junior Varsity Singles:
Preston Condie- Loss: 1-8
Preston Condie- Win: 8-4
Junior Varsity Doubles:
Keenan Hatch and Caleb Winfree- Loss: 7-9
Dylan Stead and Zach Mortensen- Loss: 0-8
Derrick Jorgensen and Garrett Bryner- Loss: 0-8