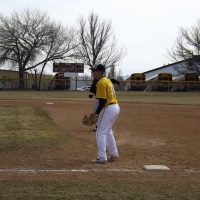 The Emery Spartans collected region win number seven on Friday as they blanked the San Juan Broncos, 8-0 in Castle Dale. The game started quietly and was scoreless until the bottom of the fourth, when Emery found its offense and scored all eight runs in the last few innings.
San Juan really had no answer for the Spartans. Trez Perkins went four innings for the Broncos giving up six hits, four runs, one earned. In perhaps the one bright spot for San Juan he struck out five.
On the Spartans side, Friday was Koda Alton's day as he pitched a complete game allowing four hits, no runs and striking out nine. It was definitely an all around team win as the defense backed him up in the shutout. Alton also helped his own cause adding two hits and two RBI's, while scoring one run.
As for the rest of the Spartans Brax Jensen, Riggs Griffin, Logan Healy and Ryker Jensen each scored a run. They also added eight hits and forced San Juan to dip into their bullpen to finish out the final few innings.
Emery now sits at 9-6 overall and 7-2 in Region 15 play. They currently sit one game behind the Manti Templars in the loss column for second place. With two games against the Templars coming up the end of this month, the region standings could look very different by the end of April.
Emery will take to the field on Tuesday for a non-conference game with the Juab Wasps who are the number one team in Region 14. The game against Juab will be on the road in Nephi at 3:30.
The Spartans will be home again on the 12 of April for a region game versus the South Sevier Rams. Scheduled start for that game will be 3:30 in Castle Dale