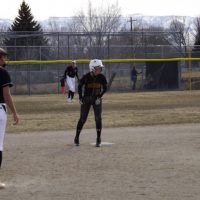 The Emery Spartan softball team defeated San Juan 11-6 on Friday at home in Castle Dale.
In the first of five games that they would play in two days  Emery used consistent offense throughout the game scoring runs in every inning but the fourth on their way to a victory, but more importantly notching  a 4-3 Region 15 record.
Braileigh Clark gets the victory on the mound going three innings and giving up two earned runs while striking out five. This was a game the Spartans needed in order to stay close in the conference standings with Grand, Manti and North Sanpete.
Offensively, Emery used big first and fifth innings to put this one out of the reach of San Juan. AdriAnne Childs came up huge for the Spartans going three-of-five from the plate with one run and four RBI's. Six other Emery players finished the game with one RBI each.
Following the victory the  Spartans would take part in the Payson Icebreaker Tournament on Saturday.
Emery now  has just four region games left in the season. They will take to the field on Tuesday for a non-region match-up against cross county rivals Carbon. The game is set to start at 3:30 in Castle Dale.