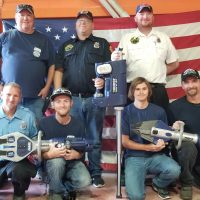 National Community Development Week will take place April 22-26, and it celebrates the fact that the Community Development Block Grants (CDBG) help various local agencies to do projects that are important to them.
The celebration week was created in 1986 to bring attention to the CDBG program and its worth to the nation during a time when it was under scrutiny by Congress. The importance of these programs are demonstrated every year, when the Southeastern Utah Association of Local Governments (SEUALG) does set asides for money requested by communities for projects of interest.
Today the CDBG program is vital to many communities in the area that the SEUALG administrates which includes San Juan, Grand, Emery and Carbon Counties. The money comes from the federal government and is sent originally to the state that then awards it to the various association of governments in the different regions of the state. Once there the money is then applied for by cities or counties, and the award of the funds to those agencies is up to a Rating and Ranking Committee that uses a point system to score the requests. Once that is done the money is awarded to those that have been selected through the process.
At SEUALG the person that oversees the program is Jade Powell.
Powell says there are many examples of projects that have been done in the last year, those that are presently being done and those in the pipeline for next year.
"For instance, the Carbon County Housing Authority wanted to do a refurbishing of Bookcliff Gardens in Wellington," said Powell.  "They applied for over $200,000 to do the project but we could only award them about $120,000. They have had to make some changes but are still doing some very good things with the money."
The grant actually went to Wellington City so the housing authority is the sub-recipient of that money. The rules for CBDG grants are that only cities or counties can directly apply for the funds, but non-profits and special service districts can ask those entities to apply for the money for them.  Any money awarded has to benefit low to moderate income individuals. Those qualifications are evaluated by numbers concerning the adjusted median income of people that will benefit from any one project.  There are places in the four county area that are preapproved for these funds based on the last census. The general rule is that money can be granted if more than 51 percent of the people living in the area affected are considered low income.
Preapproved areas are already above that percentage so they qualify, but if an area is not, they must do  what is called an income survey to find out if they qualify. Once completed if the area is at 51 percent low income then the agency can be awarded money for the project. There is a caveat to those rules however.
"If the project is for battered and abused spouses, children centers of various kinds, anything to do with seniors and things having to do with the American Disabilities Act or disabled individuals, income levels are not considered," said Powell. "For instance, last year the Ferron Senior Center was awarded $50,000 to do a carport so that the Meals on Wheels vehicles could be loaded safely and effectively in bad weather. That center is where the kitchen is located that prepares all the meals for western Emery County and where all the vehicles for that service are located and dispatched."
Powell says another example is Wingate Village in Moab. The plan was to construct 22 units of three to four bedroom townhouses and 11 single housing units. The group applied not for the actual construction costs of the units, but for money to put in the infrastructure to support them. The amount needed for the project was over $3.4 million. SEUALG awarded CDBG money in the amount of about $350,000.
Other needs that are vital beyond construction can also be bought with the awarded funds. The Castle Dale Fire Department had some old equipment that needed to be replaced. It was purchased in 1971. Equipment that was old  included the Jaws of Life, some Self Contained Breathing Apparatus (SCBAs) and other items.
"They applied for $30,000 and we were able to award them about $25,000 to replace most of that equipment," said Powell.
Another award was the MAPS Project in Grand County where there are 36 senior apartments being built.  In this case SEUALG helped with the engineering on the project.
Money for 2019 has already been awarded and the agencies that will get the money will see and be signing their contracts in June. Powell said there is a lot of variety in what the awards are for.
For instance, Moab City is using money for ADA compliance at their city recreation center which includes a wheel chair lift and other things to aid the disabled. They will get $74,000 to help with that. Others that have been awarded include Price City that is building a wheel chair ramp into the basement of the city library and they received  $37,000 to help supplement that project. Also the Wellington City Fire Department will be purchasing some SCBAs and they are getting just over $87,000 for those. In Emery County, Castle Dale is putting in a Pickle Ball Court and they are being granted $30,000 for that. In addition, Huntington City will be doing ADA compliance at both the city park and their rodeo grounds this next year. They too got a $30,000 award.
"There was a time when CDBG money was largely awarded for housing projects only, but that has changed," said Powell. "It is a competitive grant process. We look at all their statistics, their demographics, how much money they are putting into it and most of all how many people are going to benefit from the project."
The process is based on points and in the case of more people benefiting from the investment, those that cause that effect get more points in the selection process. Powell says they do a per capita cost per beneficiary and look at all the criteria closely when selecting those that get the grants.
"The thing is that we want to be very transparent in how we award the dollars and the criteria we use to do so," said Powell. "We want those that apply to understand how the money was given out and why."
He pointed out that the money is federal money and that the funds are coming "to the four county region from the federal government."
"Last year we awarded over $708,000 to the four counties," said Powell. "That money went to nine projects, with at least one in every county. That was a total increase from the year before by $210,000."
Powell said the increase came about because CDBG representatives like himself from around the state met for months about how to get the allocations for various regions changed and that change came with a new formula that is now being used. Each year the state gets between $4.5 and $5 million and that is divided up between the various association of governments in the state. It is split up using a formula that considers factors such as poverty rate, low and middle income levels, population, pre 1980 housing stock and the number of applicants that can apply for the money.
"For instance there are some regions that have only three or four cities that can apply, but in SEUALG's region we have 23," he said. "Many small towns need money to do basic things, but their population base is not big enough to have the tax structure to do the things that are necessary."
Powell cited the example of Bluff in San Juan County. They only have a population of 250 people but need to develop their water resources and improve their system. They are doing a 50 year water study but  could not afford to do that alone. The received $96,800 to work on a the study and to do some engineering for the improvements.
There is administrative money that must come out of the CDBG funds ($50,000 for SEUALG) and also another $174,000 is moved out to help with the Single Family Housing Program at the agency. That money is used for housing rehabilitation and individual can apply for grants to do that through the agency too.
Any money not spent during a year is returned to the state and they put it in a fund for the next years funding across the state.
Pending contracts have been awarded but they will not be signed and agreed to with Housing and Urban Development (HUD) unless applicants attend a workshop on the proper use of the money, they have to redo their budget and they have submit a final application. Those signings should take place in June.