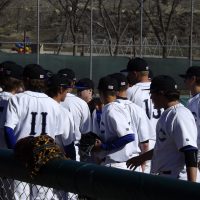 The Carbon Dinos baseball season came to a close with a 10-2 loss to the Manti Templars in the 3A State Championship Tournament Friday afternoon at Kearns High School.
Manti jumped out to an early 2-1 by the end of the first inning. The team's remained locked in a run-one game until the fifth frame, where Manti scored four runs to take complete control.
Held to just three hits for the contest, Carbon left a total of 10 runners on base. Manti took full advantage of Carbon's struggles offensively, finishing with 10 runs on 10 hits.
Despite a solid effort on the mound senior Braxton Bennett was pegged with the loss. Throwing the first four frames of the game, Bennett allowed just four hits and three earned runs, while also striking out two.
Adrien Sanchez allowed six earned runs in 1.1 innings of relief work. Collin Lewis finished the contest with two strikeouts and no earned runs.
At the plate Lewis ended 1-3 with one RBI. Bennett and fellow senior Ty Anderson also recorded one single. As a team Carbon failed to log an extra base hit.
The 2019 season offered several ups and downs for the Dinos. After starting the region portion of the season 6-0, Carbon ended the league slate with four straight losses.
Entering the state tournament as the No. 3 seed from Region 14, Carbon defeated Morgan in the opening round. A loss to the eventual state champion Richfield Wildcats dropped Carbon into the one-loss bracket.
Responding with a dominating 5-1 win over the Emery Spartans, Carbon advanced to Friday's action with a 6-0 win over Providence Hall.
Stay tuned to Castle Country Radio for a complete season wrap up interview manager Jeff Cisneros in the coming days.