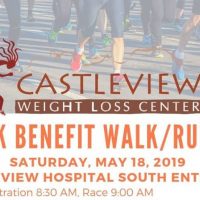 The Castleview Weight Loss Center is excited to be hosting their annual 5K Benefit Walk Run on Saturday, May 18. All participants young and old will meet at the Castleview Hospital South Entrance to register at 8:30 am with the race beginning at 9:00 am.
"So, this year we're really excited because the proceeds from the 5K are going to Carbon High Athletic Department. We sort of have a little contest and on the day of the race when you register, they'll ask you if you would like your participation to go toward any particular team. The team with most participants gets 50 percent of the proceeds and the other 50 percent is disbursed throughout the athletic department," said Castleview Weight Loss Center Representative, Jessica Valdez. Carbon High students will make up the various athletic teams that will be competing to win a portion of the proceeds to benefit their team expenses whether that's softball, baseball, football, basketball etc.
"You can pre-register at www.carbonrec.com or you can come into the Castleview Weight Loss Center which is in the same clinic as Dr. Presset's office and if you have any other questions about the 5K feel free to call us at Dr. Presset's office at 637-4590," said Valdez. The cost for the event is $15.00 per person which includes an event t-shirt and $25.00 per family which does not include an event t-shirt but may be purchased separately for $10.00 each.
To learn more about Castleview Weight Loss Center visit their website at https://www.castleviewhospital.net/