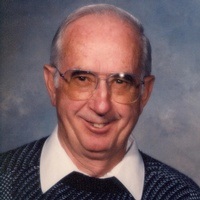 Jensen LaMar Bishop was born October 23, 1925 in Sunnyside, Utah. He passed away peacefully on May 11, 2019 in Price.
LaMar was a member of the Church of Jesus Christ of Latter-day Saints. He was a proud veteran who served in the U.S. Army during World War II in the Asian Pacific Theatre based in Japan and was part of the military cleanup of the Hiroshima bombing. Upon returning home he met the love of his life in the A&W Drive-in. They had six children together with two passing as infants. Dad has been a great man, sharing the deepest and greatest love ever for his sweetheart, our mother. This love amazingly lasted 72 years, continuing one of the greatest love stories ever. Dad never boasted about himself, he just worked and gained respect from those he came in contact with. He worked in the mining industry starting in Hiawatha to Price. Afterwards our family moved to Glenwood Springs, Colorado and then Denver. Dad was MSHA's director over the western states when the Wilberg crisis happened. This took a toll on his health and he retired not long after. They settled in Price where he stayed until his passing. He loved to fly his airplane, fish, making his omlet, his hamburger soup and, no matter what was going on, if someone mentioned golf he was up for it. He taught all of us how to fish, hunt, camp and most of all how to love. He was the best husband, father, grandfather and brother anyone could pray for. Our family was just lucky enough to have him as our own. Everyone that knew him loved his sense of humor, compassion for others, and professionalism in every endeavor that came his way. His love was always his sweetheart, Merlin Christina Hansen and our family. We were so blessed to have such a dad.
Survived by his wife, Merlin; children, LeAnna (Wally) Axelgard, Randy (Mary) Bishop, Barbara (Joe) Piccolo, Paula Birk; 13 grandchildren and 16 great grandchildren.
Preceded in death by his parents, Genovieve and Earnest Bishop; children, Janice and Earnest Bishop; granddaughter, Jessica Axelgard; great grandchildren, Levi Bishop and Jayden Seals; son in law, Wolfgang Birk.
Funeral service, Wednesday, May 15, 2019, 1:00 p.m., Price North Stake Center where the family will receive friends one hour prior to service. Interment, Cleveland Cemetery. Arrangements entrusted to Mitchell Funeral Home of Price where friends are always welcome daily and may share memories online at www.mitchellfuneralhome.net.