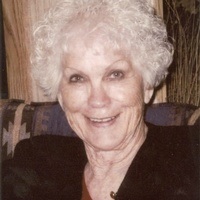 Ann Prosence passed peacefully into the arms of her loving Heavenly Father and her eternal parents Frederick Hilton Blackham and Harriet Christina Nielsen on May 11, 2019.
Ann was born March 25, 1925 in Huntington, Utah. Ann gained her lifelong love of the outdoors and gardening while working and playing at her grandparent's (Peter and Delecty Nielsen) farm outside of Huntington.
Ann graduated from Emery High School in 1943 and married Richard Anthony Prosence on Dec 25, 1947 in Huntington, Utah.  After graduating from college, they traveled around the country from Utah to Virginia in a 26-foot travel trailer while Richard worked for the BLM. They moved to Grand Junction, Colorado in 1956 where she raised her three children, Cassandra, Paul and Matthew.
After her divorce from Richard in 1983, Ann served an honorable mission for the Church of Jesus Christ of Latter-day Saints in the Canada, Winnipeg Mission.  She later moved to Castle Dale, Utah where she started a whole new life with many friends and new adventures.  She served as an ordinance worker in the Manti, Utah Temple from 2003 until she was released in 2016. She often said that those were her happiest and most fulfilling years.
Ann enjoyed crafts, decorating, painting with various media on interesting surfaces (like wood and rocks) and collecting and displaying everything she collected.  She often went hiking and fishing and was an avid excavator of antique bottles found in Colorado ghost towns and early 1800's cabin sites.  She was a great dirt biker and drove her own motorcycle.
Ann's passion for gardening was well know and anyone who entered her award-winning garden felt the magic she created. She was busy with her small garden that she had created in her room at Good Life Assisted Living just days before she passed.
She loved and was loved by her younger sister, Linda, they were like two peas in a pod and shared much fun and laughter together.  Ann was well known for her charity and encouraging support for her family and community, she was a straightforward woman.  You always knew where you stood with Ann.
She is survived by her children Cassandra (Dale) Nelson, Gillette, WY, Paul Jeffrey (Nancy) Prosence, North Salt Lake, UT, Matthew Hilton (Konnie) Prosence, Glenwood Springs, CO; sister Linda (Bob) Patch, Price, UT; nine grandchildren, three great-grandchildren, and numerous nieces, nephews, great nieces and great nephews who loved her and her feisty stay and great sense of humor.
Funeral service, Saturday, May 18, 2019, 11:00 a.m., the Church of Jesus Christ of Latter-day Saints located at 175 North 1280 West (Ranch Road) in Price where family will receive friends from 9:30 to 10:30 a.m.. Interment, Huntington City Cemetery. Arrangements entrusted to Mitchell Funeral Home of Price where friends are always welcome daily and may share memories online at www.mitchellfuneralhome.net.