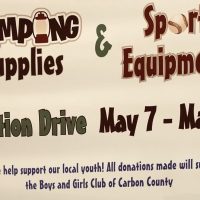 The Boys & Girls Club of Carbon County are hosting a Camping Supplies & Sports Equipment Donation Drive and are asking help from the public as they are in need of various items for the club.
The items they are looking for are camping supplies, sleeping bags, fishing supplies, tents. They are also looking for sports equipment like basketballs, footballs, soccer balls, baseballs, sports equipment such as bats, gloves, tennis rackets.
Any individuals that wish to make a donation towards the cause may drop off their items at Sheralds Frosty Freeze, Granny J's, Carbon Print & Design, Workforce Services or Boys & Girls Club. Cash donations can be made at the Boys & Girls Club.
For more information please contact Brandon Stark at (435) 299-0132.