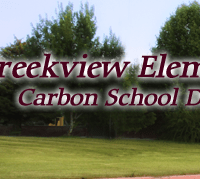 Creekview Elementary students are preparing for another school year to come to an end by finishing up testing, going on field trips and enjoying the PTA Field Day but for Principal John Thomas it's time for him to say goodbye as this is will be his last year at Creekview Elementary before he embarks on retirement life.
"I've loved it, working with the school district has been great. I've loved working for Carbon School District. The teachers and staff at Creekview are just amazing, I've really thoroughly have enjoyed it. The students are great and the PTA is wonderful, they plan so many activities, fundraisers and things for the kids and it's all about the students," said Principal Thomas. Before accepting the position at Creekview Principal Thomas along with his wife moved to the area from Tooele and they plan to return to be near family after the school year ends.
Students are currently finishing up their testing which has taken place the majority of the month. "They are taking the RISE test which is replaced by the SAGE test, it use to be the SAGE test but its seems like those two are having a lot of glitches in the testing itself but it seems the levels will be pretty consistent as they move from SAGE into Rise," stated Principal Thomas. Once the testing is completed students will be able to enjoy all the fun activities that come at the end of the school year.
The PTA has scheduled the end of the year Field Day on May 17. Many of the grades will be going on field trips with their classrooms and one, in particular, is quite gratifying for the entire school. "One of the things that we've done the last couple of years is raised trout from eggs and so we are going to release the trout on Monday up at the fairgrounds, in the pong up there. So that's an exciting thing for the kids and we also have the talent show that the students are going to be in and so that is exciting as well," explained Principal Thomas. The last day of school is scheduled for Thursday, May 23.
To get more details of the end of the school year events visit the school's Facebook page.