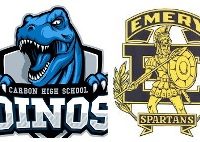 On Wednesday June 5, the Utah High School Coaches Association will host their annual all-star game for seniors. The game will include all-stars from 3A facing off against their counterparts from 1A and 2A. The game will take place in Ephraim on the campus of Snow College.
The game will give seniors one last time to put on a uniform and represent their high school. Modified rules will be implemented for safety reasons such as no blitzing by either team, no punt or kick returns. All other traditional Utah High School rules along with 12 minute quarters will be used.
Three Carbon Dinos will be making the trip as well as one player from the Emery Spartans.
Collin Lewis, Gunner Jeffs and Makade Bradley will go as the Dinos all-stars. Lewis a three sport athlete had a great career as he rushed for 853 yards on 192 carries. He also had 22 receptions and 269 yards as well as five touchdowns. Bradley who played center and defensive tackle ends his high school career with 34 solo tackles and 41 total tackles registering one sack. Jeffs who also played defensive tackle and tackle had 16 solo tackles and 19 total in his time at Carbon.
For Emery, Rance Jensen a three sport athlete for the Spartans will participate, having 36 carries for 164 yards and added 3 receptions for 21 yards.
The 3A squad will be coached by Rhett Bird and the defense will be handled by Dave Peck, both  from the staff of North Sanpete High School.  The offensive coordinator will be Les Hamilton the head coach at Summit Academy.
The 2A and 1A squad will be coached by the staff from South Summit.
The game will be Wednesday June 5 at 7 p.m., at Snow College. We will report the results of this game as they become available.