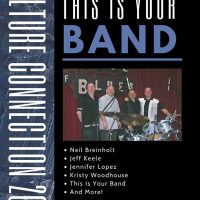 It's Culture Connection season it's kicking off this Thursday evening at the Price City Peace Gardens at 185 East Main Street. This summer concert series will begin at 7:00 pm and will feature local singers along with Castle Country's favorite, This Is Your Band.
"We're going to do something Thursday that we have never done before. We're going to recognize the history and heritage of Culture Connection. We're going to honor Neil Breinholt and Kathy Hanna-Smith, they're like the mom and dad or grandma and grandpa of Culture Connection, they're the ones that got it to this point," said Price City Council Member, Layne Miller. "This Is Your Band they have been here a lot. When I contacted them and told them we were going to honor Neil and Kathy they were all in and luckily they were available." This Is Your Band is a live band karaoke band that plays over 1,000 songs from various genres and takes karaoke to a whole new level.
Some of the local singers that are scheduled to make an appearance are Neil Breinholt, Jeff Keele, Jennifer Lopez, Dave Hocansen and Kristy Woodhouse. "I think we have eight or nine different people who have been apart of Culture Connection over the years. So after we thank Neil and we thank Kathy then we are going to have everybody sing," said Miller. Spectators are reminded to bring their lawn chairs and blankets as they find a spot to sit and enjoy the music.
The evening will not only feature an array of songs and singers but will feature a classic car show on main street. "We're also going to have a Classic Car Show at the same time. We're going to block off 1st East and block off Main Street – we're going to have classic cars. We're going to have Price City's own cornhole boards, we're going to have cornhole tournaments for the kids, we're going to do chalk art. It's going to be one of those things that we're going to be talking about forever," said Miller. Individuals who wish to enter a classic car into the show may do so by calling Miller at (435) 820-4326.
The outdoor summer concerts are a great way to unwind from the hustle and bustle of a busy work week. Remember to invite family members, friends and neighbors out for an entertaining evening at the Price City Peace Gardens on Main Street. For more information on Price City's Culture Connection visit their Facebook page.