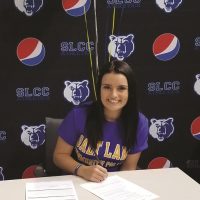 Carbon High School senior softball player Kaytlyn Cripps has been named to the 3A All-State First Team, while fellow senior Dekota Kraushaar received an honorable mention for their play in the 2019 season.
Cripps, an All-State Second Team selection in 2018, led Carbon in multiple offensive categories, while registering .382 batting average. She also finished with 23 RBIs, eight doubles, four home runs and four stolen bases.
Playing pitcher and catcher throughout her career at Carbon, Cripps turned four double plays and gathered a stellar .935 fielding percentage in 2019. On the mound she held opponents to a .276 batting average.
In November Cripps signed a National Letter of Intent to continue her softball career at Salt Lake Community College in the spring of 2020.
Kraushaar finished with the team's highest batting average at .449 in 76 plate appearances. Knocking three home runs throughout her senior campaign, she finished with 31 RBIs, five doubles and 24 runs.
As a junior Kraushaar also received an honorable mention for her play on the softball field.
The 3A All-State teams were selected by each of the coaches in the classification and the Deseret News selects a MVP from the group.