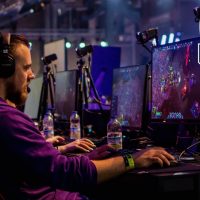 -Press Release-
PRICE –  Utah State University Eastern has added a varsity eSports for the upcoming 2019-2020 school year.
"It is one of the fastest growing sport in the country and students have shown great interest in eSports. With other schools in our conference adding the program, it was a great opportunity at this time to get involved," said USU Eastern Interim Athletic Director Scott Madsen.
USU Eastern eSports will compete under the governance of the National Association of College eSports.
The program will be under the leadership of coach Kevin Van Der Spek and will hold their competitions in the Nexus which is located on the second floor of the Jennifer Leavitt Student Center.
"There is a lot of work to be done, and I am ready. I've been competitive in the Esports world for a number of years now, and I am excited to share that experience with my fellow students," said Van Der Spek.
According to Van Der Spek, the games that the eSports team will compete in will depend on personnel on the team but he already has an idea on what games he wants to focus on.
The plan for this year's eSports team is to focus on the following games: Overwatch, League of Legends, Hearthstone, and Super Smash Bros Ultimate.
In year one Van Der Spek has goals to start a program that is built the right way and involves the entire campus especially the student body.
"We are working tirelessly to create the infrastructure needed for success, through careful deliberation for all decisions," said Van Der Spek.
"The first goal is to establish routines for effective practice that will translate into results. After we get into a good routine, it is our goal to get our name on the board. Now is the best time for USU Eastern to make a name in eSports because of how new the world of college eSports is."
The eSports schedule and list of opponents will be announced at a later date.
For more information about eSports at USU Eastern or have interest in participating in eSports click here.