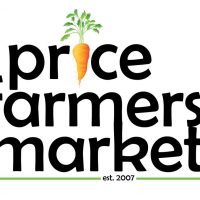 The Price Farmer's Market is set to open for the season on Saturday, July 13 in the parking lot of the Prehistoric Museum at 100 North 100 East. This event will be held every Saturday from 9:00 am to 1:00 pm from now until October 26 and will feature items from local farmers from both Carbon and Emery counties.
"So the first weekend is going to be some of the cold crops, so a lot of the people are going to be expecting you know full-size tomatoes – well have a few and we're hoping that the zucchini is starting to come on, cucumbers are starting to come on, but you're going to see things like kohlrabi, kale, cabbages will be coming on – so the cold crop plants," said Price Farmer's Market Representative, Roseann Pitt. One purpose for customers to shop a farmer's market is to get reasonably priced, freshly picked and locally grown produce without the synthetic pesticides, herbicides or fertilizers. The Farmer's Market policy is to keep items offered to be food related although there are some home goods that are obtainable like honey, kitchen accessories, bread and bottled goods.
The Farmer's Market is always looking for more vendors to participate in the weekly event. "We absolutely love a new vendor, like we mentioned we try to keep the food frontmost in our Farmer's Market so we're always looking for food-related ones, the craft ones we do have openings right now but they will be limited on how many more food vendors we bring in," said Pitts. The cost to participate for the season is $35.00 which helps pay for the advertising of the market. There is no Market Manager so vendors do have a say in how the Farmer's Market is directed.
Any individuals who wish to be a part of the Farmer's Market or would like more information on the weekly menu may visit the Farmer's Market Facebook page.