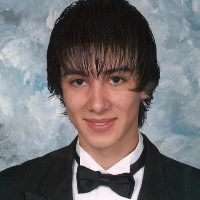 Philip Scott Pendleton, age 28, passed away July 31, 2019 in Price.
He was born April 4, 1991 in Payson, Utah to Philip Richard and Gloria Luz Peralta Pendleton.
Scott was a longtime resident of Price and a graduate of Carbon High School Class of 2009.  After graduation he attended Arizona State University where he was the founder of the Trap/Skeet Program at ASU.  Scott excelled in shooting sports and held a national ranking of 49th in marksmanship in shotgun trap/skeet shooting. Scott was a very kind, witty person who loved telling jokes. He will be dearly missed by all who knew and loved him.
Scott is survived by his parents, Philip & Gloria Pendleton, Price; brother, 1st. Lt. Richard O. Pendleton, U.S.M.C., Dana Point, CA; sisters, H. Lizethe (J. Braidan) Pendleton-Beck, South Jordan, S. Alheli Pendleton, Price; niece, Laynee Beck, South Jordan; grandmothers, Audrey Pendleton, Gloria Carhuaya, both of Price; many loving aunts, uncles and cousins in the U.S., England and Peru.
Preceded in death by his grandfathers, Dean Pendleton and Humberto Peralta; uncle, Dean L. Pendleton; and two cousins, Stuart Pendleton and Heather Petersen.
A memorial graveside service will be held, Wednesday, August 7, 2019, 10:00 a.m., at the Cliffview Cemetery.  Arrangements entrusted to Mitchell Funeral Home where friends are always welcome daily and may share memories of Scott online at www.mitchellfuneralhome.net