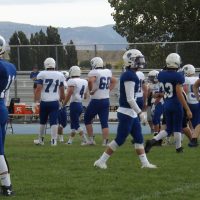 Head coach Josh Huntsman will begin his fifth season as head coach at Carbon High School when his team opens the 2019 season on the road Friday against American Leadership Academy in Spanish Fork.
This past Friday offered a first glance at this year's squad as the team participated in the annual Blue and White Scrimmage. A high scoring first half delivered 40 points as the two sides entered the break tied at 20. The score alone offered a glimpse into the offensive fire power the team may possess.
Registering a 2-8 overall record in 2018, which included a home playoff game for the first time in nearly two decades, optimism is running high. With 16 starters returning this year Carbon seems ready to go in the newly realigned 3A Region 12.
With nine offensive and seven defensive starters coming back this season, the Dinos will look to build off of what they started last season, in which they registered wins against Judge Memorial and Emery a team they had not beaten since the year 2000.
Carbon went 2-3 in the 3A North last season. This year they will be taking on teams that are a bit closer geographically than in past years. Region 12 will include Emery, Grand, Richfield, San Juan and South Sevier.
"This one is a great region, it's a great setup," said Huntsman. "You could be number one or you could be number five depending upon how it looks, I think there area some upper level teams within our region and I think there are some average teams within our region."
The Dinos displayed growth on both sides of the football in 2018. Averaging 15 points per game last year, Carbon surpassed 2017's point total, and nearly tripled their offensive production from 2016.
On the offensive side of the ball there may just be a bit of a quarterback battle brewing. Jaylon Dennis, who took over last season when starting quarterback Noah Jones went down with an injury, and Tyler Wright who is new to the program.
"Tyler likes to get the ball into play makers hands. I don't know how comfortable he is running the ball," said Hunstman. "Jaylon wants to have the ball in his hands and Jaylon wants to be that play maker. So between the two of them they're going be able to spread that ball around."
They will also look to run the ball more this season with returning seniors all across the offensive line. Lee Moon, Tristan Stamatakis, Anthony Madrigal, Garrison Marquez and Braden Barker will look to impose their will on defenses this season and make it possible for running backs Cooper Schade, Ryker Larsen and Ridic Miglori.
While the improvement on offense was apparent, the team also improved defensively as they allowed fewer points than three other teams in 3A. The highlight of the defense came in a seven-point win over Emery, where they allowed on nine points.
Defensively Carbon will be lining up a 4-3 scheme, and moving some personnel around on that side of the ball as well. Stamatakis will be moving to middle linebacker and Ryker Larsen will go to the outside where his speed can be utilized more.
"We have a ton of speed to the ball which we haven't had always," said Huntsman.
Carbon will take to the field to begin the 2019 season at ALA, Friday August 16. The region opener for Carbon will be Sept. 20 against Richfield.
This year all Carbon High School football games will air live in Carbon County on KRPX The Peak 95.3 FM, 102.7 FM in Green River, 100.3 FM in Moab and 95.9 FM in Castle Dale. All games will also be available online at castlecountryradio.com and also through the KRPX phone app.
2018 Results:
| | | |
| --- | --- | --- |
| Opponent | Result | Record |
| VS Manti | Loss 40-15 | 0-1 |
| @ Payson | Loss 38-7 | 0-2 |
| VS Duchesne | Loss 21-12 | 0-3 |
| @ Ogden | Loss 41-21 | 0-4 |
| @ Union | Loss 35-0 | 0-5 (0-1) |
| VS Emery (Homecoming) | Win 16-9 | 1-5 (1-1) |
| @ Grantsville | Loss 42-23 | 1-6 (1-2) |
| VS Morgan | Loss 42-0 | 1-7 (1-3) |
| VS Judge | Win 42-28 | 2-7 (2-3) |
| VS Richfield (Playoffs) | Loss 45-15 | 2-8 (2-3) |
2019 Schedule:
| | | |
| --- | --- | --- |
| Date | Opponent | Time |
| Friday, August 16 | @ALA | 7:00 p.m. |
| Thursday, August 29 | @ Duchesne | 7:00 p.m. |
| Friday, Sept. 6 | @ Judge | 7:00 p.m. |
| Friday Sept. 13 | VS. Union | 7:00 p.m. |
| Friday, Sept. 20 | VS. Richfield (Homecoming) | 7:00 p.m. |
| Friday, Sept. 27 | @ Emery | 7:00 p.m. |
| Friday Oct. 4 | VS Grand | 7:00 p.m. |
| Friday Oct. 11 | VS San Juan | 7:00 p.m. |
| Wednesday Oct. 16 | @ South Sevier | 7:00 p.m. |
| Oct. 25 & 26 | State Playoffs | TBD |