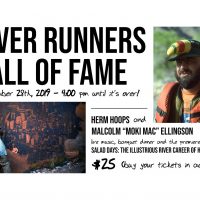 The old-timers will always be with us. As time progresses, we honor them and then become them. We celebrate their accomplishments, then try to build on what they did – climb the ladder they hung and add our rungs to the top. On September 28th, join us as we add two more names to the River Runners Hall of Fame and celebrate their time on the ever-flowing waters of the Colorado Plateau.
Malcolm "Moki Mac" Ellingson, an old-timer if there ever was one, introduced countless young men and women to the waters of the Colorado Plateau, primarily through Glen Canyon. An entertainer who was a gifted storyteller, singer, and musician, was a fixture in the river running community of the 1950s and 1960s.
Herms Hoops has been a naturalist, educator, writer, historian, mentor, boat repair expert, river guide, a bit of an outlaw, and most importantly, an advocate for the rivers and canyons of the Colorado Plateau. His experience, varied knowledge of law and regulations, and the effects of potential threats to the rivers of the West inspired a lifetime of work to protect them.
This year, in addition to our banquet and induction ceremony, we'll be celebrating with a band and party outside beginning at 4:00 pm – Highwater (Western River Expeditions) will play. We'll also be premiering Rig To Flip's film about Herm, The Salad Days: The Illustrious River Career of Herman Hoops.
We invite you to join the river running community for this annual event and fundraiser. Admission is $25 per person, which includes dinner, music, and induction ceremony. Tickets are limited and will likely sell out.
For more information on this event visit https://johnwesleypowell.com/