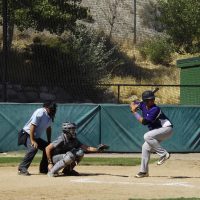 The Utah High School Activities Association has released its initial 1A baseball RPI rankings, placing the Pinnacle Panthers 11th out of the 16 competing schools.
Undefeated Wayne holds the top spot, getting a slight edge over Telos, the other unbeaten team in the classification. Diamond Ranch, Valley and Piute complete the top five.
Currently sitting with a 3-10 record overall, the Panthers remain in striking distance to climb inside the top 10. Eight games remain on the regular season schedule and seven of those opponents are currently ranked in the top 10.
Pinnacle will continue the season on Wednesday with a home contest against Panguitch. The week will continue with a matchup with Green River Friday and Tabiona on Saturday.
The RPI standings are determined by three statistically categories:
*MWP (Modified Winning Percentage): Divide the number of possible points by the number of total available points from games played accounting for the adjustment between classifications.
*OWP (Opponents Winning Percentage): Average of the winning percentage of a team's opponent.
*OOWP (Opponents' Opponents Winning Percentage): Same process as OWP except the calculation is with the opponents of the team's opponent.
Below are the complete RPI standings as of Monday, Sept. 9:
| | | | | | | |
| --- | --- | --- | --- | --- | --- | --- |
| Rank | School | RPI | MP | OWP | OOWP | W-L-T |
| 1 | Wayne | 0.739 | 1.000 | 0.561 | 0.575 | 13-0 |
| 2 | Telos | 0.667 | 1.000 | 0.416 | 0.502 | 9-0 |
| 3 | Diamond Ranch | 0.661 | 0.769 | 0.606 | 0.556 | 10-3 |
| 4 | Valley | 0.659 | 0.785 | 0.575 | 0.574 | 11-3 |
| 5 | Piute | 0.624 | 0.692 | 0.582 | 0.574 | 9-4 |
| 6 | Tintic | 0.556 | 0.625 | 0.492 | 0.548 | 5-3 |
| 7 | Panguitch | 0.532 | 0.461 | 0.593 | 0.552 | 6-7 |
| 8 | Tabiona | 0.493 | 0.416 | 0.543 | 0.547 | 5-7 |
| 9 | Green River | 0.476 | 0.333 | 0.585 | 0.545 | 4-8 |
| 10 | Manila | 0.470 | 0.300 | 0.661 | 0.430 | 1-3 |
| 11 | Pinnacle | 0.433 | 0.230 | 0.569 | 0.564 | 3-10 |
| 12 | Wendover | 0.432 | 0.375 | 0.470 | 0.471 | 3-5 |
| 13 | Bryce Valley | 0.426 | 0.230 | 0.556 | 0.557 | 3-10 |
| 14 | Intermountain Christian | 0.418 | 0.461 | 0.332 | 0.504 | 6-7 |
| 15 | Dugway | 0.307 | 0.000 | 0.562 | 0.411 | 0-10 |