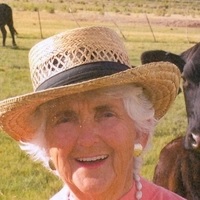 After 48 years separated from her eternal companion, Ina Lee Johansen Magnuson returned home to be reunited with her husband Monroe, and her Heavenly Father on Saturday, September 7, 2019.  She was born April 27, 1929, in Castle Dale, Utah, to Byron and Udella Johansen and was married for time and all eternity to Monroe Magnuson on February 11, 1948, in the Salt Lake City Temple.
After her husband's untimely death, she continued ranching, raised four children and was actively engaged in agricultural issues affecting Emery County.   She worked as Castle Dale City Treasurer, Emery County High School Secretary and was elected Emery County Recorder where she served for 16 years. She took volunteerism and public service seriously as she volunteered on the Emery County Public Lands Council and Castle Dale City Planning and Zoning Committee. For several years she offered service on the Southeastern Utah Junior Livestock Show Committee and for more than 35 years she volunteered as a 4-H Livestock Club leader, both tasks she undertook with her husband, Monroe, before his death. She was also a member of the Daughters of Utah Pioneers and for a few years, and in her late 70s, she enjoyed working as a crossing guard for Castle Dale City.
She was an active member of The Church of Jesus Christ of Latter-day Saints and served in various callings including positions in the Scouting Program, Primary, Relief Society and a Temple Mission Calling.
She enjoyed crocheting, sewing, quilting and painting and with a tender heart for those less fortunate, she donated many of the hundreds of quilts she hand-quilted to charitable causes and gave away many of her paintings as well. She loved animals and they loved her.
She is survived by her sister, Kay (Ray) Paoli; her sisters-in-law and brothers-in-law, Julie Johansen, Hope and Sterling Umphenour and Ned and Charlotte Huntsman; and her children: Enid (Brent) Smith, Clyde (Darlene) Magnuson, Jill (Corey) Hansen, and Brent Monroe (Amber) Magnuson, 13 grandchildren, 30 great-grandchildren, and two great-great-grandchildren.
She was preceded in death by her husband, parents, four sisters (Pat Brinkerhoff Finn, Zora Fielder, Jean Curtis, Sunny Nielsen), brother (Kirk Johansen), and one great-grandson (Elven Tuff McElprang).
Family and friendship was very important to Ina Lee and they will miss her love, enthusiasm, wise counsel, and kind loving heart.
Funeral service, Monday, September 23, 2019, 11:00 a.m., The Church of Jesus Christ of Latter-day Saints Castle Dale Stake Center where the family will receive friends on Sunday, September 22, 2019 from 5:00 p.m. to 7:00 p.m. and one hour prior to the Funeral service. Interment will be at the Castle Dale Cemetery immediately following the service. Arrangements entrusted to Mitchell Funeral Home of Price where friends are always welcome daily and may share memories online at www.mitchellfuneralhome.net.