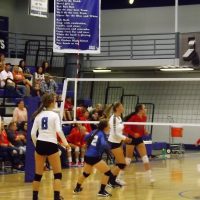 The Carbon Dino volleyball team opened region play at home on Tuesday against the South Sevier Rams (5-6, 1-1 in region), with the Dinos coming up just short 3-2.
The back and forth match was hotly contested 23-25, 25-18, 20-25, 25-20 and 13-15. For the Dinos this is their third loss in a row dating back to the end of August when they dropped the last two matches of the Dixie High Fly Tournament that took place in St. George.
Carbon was led on the court junior Emma Christensen with 18 kills. Senior Gracie Salas had 28 digs and Makenna Blanc came up with 38 assists.
The Dinos will need to shake off this loss as they now are in the heart of Region 12 play. On Thursday they will travel to Castle Dale to face the Emery Spartans in the Spartan Center. Emery who sits at 5-6 and 0-2 in region play is coming off a straight set loss to San Juan. The Spartans will be looking for the win at home.
The game against the Emery is set to begin at 6:30 on Thursday. Carbon will be home again on September 19 when they will face Richfield.