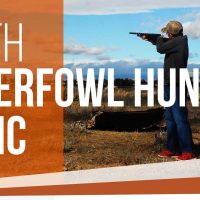 The Division of Wildlife Resources is excited to be teaming up with Ducks Unlimited to host a free Youth Waterfowl Hunting Clinic. This event will take place on Saturday, September 14 from 8:00 am to 12:00 pm at Desert Lake Waterfowl Management Area. The Desert Lake WMA is east of Elmo in Emery County.
"The objective is to get the youth out into the field to learn some key skills to go waterfowl hunting, hopefully later this season or in years to come, we're going to have a lot of different stations and it's going to be a blast," said new Conservation Outreach Manager, Aaron Bott. "We'll have several Conservation Officers as well as Wildlife Managers out there teaching the youth how to call for ducks, how to set up decoys, how to shoot from a blind. We've even got some gentlemen coming down with there dogs and we're going to talk about dog training techniques." This is a free event that is open to youth ages 14 and under. This clinic will be held outdoors, so dress appropriately. Do not bring any personal firearms, officials will provide everything for participants. There will also be prize drawings, including a shotgun to a youth 14 years of age or younger. Individuals that would like to sign up may do so online at http://j.mp/duck_clinic
Not only is the DWR hosting the youth waterfowl clinic but they also have some special hunts scheduled specifically for the youth that will take place in the next few weeks. "We're excited to be extending an invitation again to the youth for a chukar and two pheasants hunts going on this fall and essentially we're going to be going out to Hatt's Ranch and we'll be having an exciting day shooting some chukars and hunting pheasants," stated Bott. The opportunity for chukar hunting will take place on September 21. The pheasant hunt will take place on October 5 and October 12. All three hunts are each capped for 20 participants. Interested individuals must reserve their spot by calling the DWR office at (435) 613-3707.
Bott is the newly appointed Conservation Outreach Manager and is looking forward to working with the public in both Carbon and Emery counties. He spoke briefly about his previous experience, "I spent the last 13 years working in the back country mostly in several different national parks studying Large Carnivore Management particularly in the Yellowstone area working with wolf research. I'm excited to be down here in Carbon County working with Utah's Division of Wildlife, it's a lot of fun."
To learn more or to keep up on the happenings at the Division of Wildlife Resources visit their Facebook page.