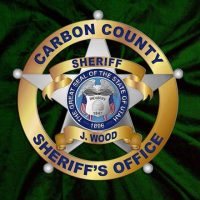 The Carbon County Sheriff's Office released a statement in regards to the Officer Involved Shooting Investigation that took place on September 10 in Wellington.
The statement reads as follows:
We are sensitive to the expectations of the public and acknowledge the need for the body-worn camera footage to be released regarding the Officer Involved Shooting that occurred in Wellington City on September 10, 2019. A case of this magnitude is one of the most crucial for an agency to investigate thoroughly. We are obligated by law to release only accurate and fact-based information. To release information that is "opinion" or "what we think" is an injustice to the family of the deceased, Mr. Duckworth, the officer that was involved and the public. This case is still under investigation is thoroughly completed the Carbon County Attorney's Office will approve the release of the body-worn camera footage. Thank you for your patience as we provide the utmost integrity to this investigation.
 For more information on the original story please CLICK HERE. Castle Country Radio will release further information as it becomes available from the Carbon County Sheriff's Office.