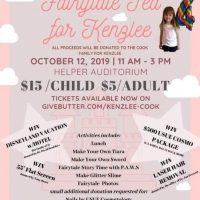 There will be a couple of upcoming fundraisers held for 4-year-old Kenzlee Cook on September 24 and 25, as well as on October 12. The first fundraiser, Let's Nail Cancer is being hosted by USU Eastern Cosmetology Department and the entire community is invited to participate.
"So, on the 24th and 25th of September from 9:00 am to 8:00 pm we're going to be doing anything nail related and all donations will go to the sweet Kenzlee," said Cosmetology Student, Megan Mower. "We're going to do manicures, pedicures, paraffins, and some gel stuff all ranging from $5.00 to $20.00. Call 613-5303 to make appointments anytime both those days." The cosmetology department is located at 600 North 500 East in the McDonald Career Center on the USU Eastern campus. All proceeds made from this event will go towards any medical expenses Kenzlee and her family are facing at this time. Kenzlee is the daughter of Tony and Candance Cook who was recently diagnosed with DIPG, a rare and aggressive pediatric brain cancer.
The second fundraiser, Fairytale Tea for Kenzlee will be held on October 12 from 11:00 am to 3:00 pm at the Helper Auditorium on 19 South Main Street in Helper. The cost to attend is $15.00 per child and $5.00 per adults. "That includes lunch, make your own tiara, make your own sword. We're going to have Fairy Tales corner with the PAWS program, they get to make they're own glitter slim. We're going to have Fairy Tale photo backdrops and stuff like that," said an Event Organizer, Amanda Paiz (PIES). "A couple different areas that are going to be for a small additional donation and that is going to be the nails from USU-Eastern Cosmetology and Fairy Tale hair for the boys and girls and then one more activity we're going to have is a professional face painter there as well." Tickets for the event must be purchased in advance at https://givebutter.com/kenzlee-cook
Attendees are encouraged to dress up in their favorite princess or pirate costume for the event. Again, all proceeds made from the Fairytale Tea for Kenzlee will go towards any medical expenses that Kenzlee and her family are facing during this difficult time.
There will be several prize drawings at the Fairytale Tea for Kenzlee. Organizers will be giving away a Laser Hair Removal certificate, USU Eastern Cosmetology $500.00 gift basket, 55" flat-screen TV and a Disneyland Vacation with hotel. Proud sponsors for the event are Castleview Hospital and David C. Bradshaw MD.
Any questions about the Let's Nail Cancer event can contact the USU Eastern Cosmetology department at (435) 613-5303 and for the Fairytale Tea for Kenzlee please contact the (435) 613-6106 or 820-1599.