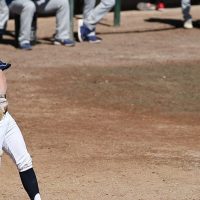 By: Danielle Jensen, USU Eastern Sports Information Director
Utah State Eastern will be hosting a baseball camp for players from 9th thru 12th grades. The morning will include 60s, throwing velocity, batting practice. Lunch will be provided for players and games will be played in the afternoon. This is a great way for young players to come and be seen by the Utah State Eastern coaching staff.
Date: October 12th 2019
Time: 10:00am
Place: Utah State Eastern Baseball Field
Cost: $40.00
Ages: 9th-12th Grade.
You can pre-register online by following this link on USU Eastern's athletic website HERE.