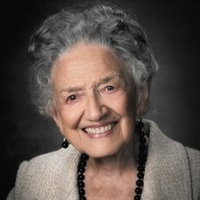 Eleanor Piacitelli Dalpiaz
Nora
Born September 30, 1911 in Majestic, Colorado to John & Helen Williams Piacitelli, the third of eight children. Passed away just 3 days shy of her 108th birthday on September 27, 2019 in Tooele, Utah, surrounded by her loving family.
Nora's family moved to Sunnyside & then Price, Utah when she was a young child, where she attended school, learned to cook, & first practiced her future calling in nursing, caring for her family during the 1918 Influenza Epidemic. In 1934, she moved to Salt Lake City to attend Holy Cross Nursing School, graduating in 1937. She met her "ideal husband" Frank Dalpiaz at a church carnival in Price that same year, and he proposed in grand fashion at the ballroom at Old Saltair. They married May 28, 1938 at Notre Dame Catholic Church in Price. Except for Frank's time in the Navy in WWII, Nora & Frank were inseparable partners until his passing in 1996,
after 58 years of marriage.
Nora felt her greatest accomplishments were being a wife, a nurse, and a mother to Philip Michael and Mary Therese. She was a pioneer for working mothers, with a nursing career that included a reputation for giving painless shots for Dr. Demman, Director of Nursing at Carbon Hospital & Nursing Administrator at Carbon Nursing Home; retiring in 1979 at age 68.
Nora was an incredible cook, kept a spotless house & loved tending to her garden–particularly her roses–at her house in Helper where she lived for 70 years. She was also known for her service to her church and her voice that resonated with St. Anthony's Church Choir throughout her time in Helper. She was named St. Anthony's Woman of the Year in 2007 by the Council of Catholic Women. In 2008, Nora was welcomed by her granddaughter Amy & her husband Chris, into an apartment built for her in their Tooele home. She remained young at heart, always dressed elegantly, & enjoyed daily visits from her great-grandchildren, Franklin & Isabel. When they or her daughter Mary couldn't be with her, and she didn't have family visiting from out of town; Nora was always happy for the company of the aides from Home Instead
Senior Care, to whom we are forever grateful.
Nora is survived by her children & their spouses: Phil & Nancy Dalpiaz, and their sons Phil Jr. & Patricia, & Steven & Shelley Dalpiaz of South Carolina; and Mary & Jack Bottino, and their daughters Gina & Graeme Cox of Salt Lake City, Amy & Chris Wilcox of Tooele, and Julie & Brian Prutch of Salt Lake City. Great-grandchildren: Racheal & David Dalpiaz, Franklin & Isabel Wilcox, & Rufus Cox.
Preceded in death by her parents, her siblings: Mildred Kasparec, Florence Piacitelli, Edward Piacitelli, Adeline LeBar, Reverend Henry Piacitelli, Helen Jean Smith, & John Piacitelli; and by her dear husband Frank.
Funeral Mass will be Saturday, October 5, 2019 at 10am at St. Anthony's Catholic Church in Helper. Vigil on Friday evening, October 4th at 7pm at Mitchell Funeral Home in Price. Interment at Mt. View Cemetery in Helper. A Memorial Mass & reception will also be held at St. Marguerite's Catholic Church in Tooele at a future date. Arrangements entrusted to Mitchell Funeral Home of Price where friends are always welcome daily and may share memories online at www.mitchellfuneralhome.net.
In lieu of flowers the family suggest donations in memory of Nora to St. Marguerites Catholic Church (15 South 7th Street, Tooele, Utah 84074), or St. Anthony Catholic Church (5 South Main, Helper, Utah 84526), or Tooele County Aging Services (151 North Main Street, Tooele, Utah 84074).