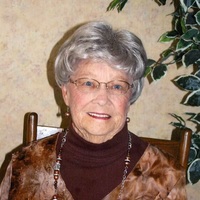 On October 2, 2019, RaLene Cramer Oveson, surrounded by loving family members, was welcomed to her vacation in heaven with open arms by loved ones who have been patiently awaiting her homecoming.
RaLene was born on October 30, 1932 to Fred Oliver Cramer and Venice Lucial Oviatt in Consumers, Utah, but grew up in Elmo where she enjoyed roller skating, learning to sew in 4H, and playing alto saxophone in the band. She graduated from North Emery High School in 1950.
During her senior year, she fell in love with a boy named Ellis Clinton Oveson. They were married on Dec. 2, 1950, later solemnized in the Manti Temple. Together, they raised five rambunctious boys and one tough girl.  RaLene loved serving her family, and used her skills as a seamstress to provide for her family at Koret of California for 25 years after Ellis passed. Known as "Grandma Cookie" to her gaggle of 26 grandchildren, 82 great-grandchildren, and three great-great grandchildren, RaLene enjoyed tending to her garden, sewing, reading, and attending kids' ballgames. She was a member of the Church of Jesus Christ of Latter-day Saints and served in her ward in various callings.
Welcoming her to heaven were her husband, Ellis Clinton Oveson, her baby girl Genene, her son Richard Elton Oveson, her mother and father and two brothers, along with grandparents, grandchildren, uncles and aunts.
RaLene is survived by her children, Paul Evan (Sandra Rasmussen) Oveson, Ellis Lydell (Kaye Luke) Oveson, Jerry Lynn (Cynthia Bell) Oveson, Marnieta (Martin) Wilson, Fred Brian (Pamela Evans) Oveson; brother Delile Cramer; sister Karen Jensen.
A graveside service will be held on Saturday, October 5, 2019, at 11:00 a.m. at the Cleveland Town Cemetery in Cleveland, Utah. A gathering of friends and family will take place from 9:30-10:30 a.m. at the Cleveland LDS Ward House prior to the graveside service.
The family wishes to give special thanks to Rocky Mountain Hospice, Mitchell Funeral Home, numerous neighbors and friends who have visited or called. Arrangements entrusted to Mitchell Funeral Home of Price and Huntington where friends are welcome daily and may share memories of RaLene at www.mitchellfuneralhome.net.