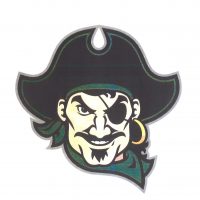 Green River baseball ended their season over the weekend in the first rounds of the 1A State Tournament in Spanish Fork. This was the first year using the new RPI system for seeding in the playoffs and Green River would enter as the 11 seed overall.
The Pirates would play Bryce Valley, a team they are very familiar with as the are in the same region. These teams faced each other twice in the regular season with Green River winning both meetings. Making quick work of Bryce Valley in five innings 12-2, the Pirates would next face Panguitch, another team from the 1A South Division. In both of their contests this year the Bobcats would come out on top, and in the playoffs the outcome wasn't any different as Green River would fall 7-2.
Below is a complete recap of Friday and Saturday's Games:
Friday October 4- Bryce Valley (3-18 overall, 1-13 in region and #14 RPI)- Win: 12-2
In game one of the playoffs the Pirates faced Bryce Valley. The game was relatively quiet with Green River scoring three runs in the third inning. The offensive explosion happen in the fourth when the Pirates would rack up nine runs putting the game away.
Senior Weston Hadfield-Knight would end the game with one run, one hit and two RBI's, senior Sam Corrigan would add two runs, one hit and two RBI's. Junior Payton Romero had one run with two hits and two RBI's. And junior Rad Hughes added two runs , one hit and one RBI in the win.
Senior Preston Marshall would get the win on the mound, going all five innings giving up five hits, two earned runs and striking out two.
Saturday October 5- Panguitch (12-9 overall, 8-5 in region and #6 RPI)- Loss: 7-2
In the second game of the tournament, Panguitch was very consistent scoring in every inning but one. Green River couldn't find much offense in this game striking out 11 times and leaving eight men on base.
Weston Hadfield-Knight would have one RBI in the game on one hit, while junior Rad Hughes registered one run on two hits and senior Cord Pfander collected a run, a hit and an RBI in the loss.
Two seniors would end their season on the mound for Green River. Sam Corrigan went one inning giving up one hit and one run and Axel Anguiano would go five surrendering 13 hits, six runs (four earned) and striking out two.
Green River finished the season 6-14 overall and 4-9 in region play.
Check back with Castle Country Radio for the latest updates on Green River High School athletics.