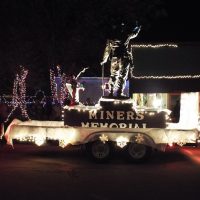 The small town of Helper comes alive during the Christmas season with the Annual Christmas Town Celebration's Light Parade. This year will mark the 30th year for a pretty amazing holiday attraction that has become a tradition for many families in the Castle Country area.
"Yeah, it's become a family tradition everybody in Carbon County looks forward to it and even outside of the Carbon County area there are so many people that come into town. They estimate between the two nights about 8,000 people will come into little ol' town of Helper," said Parade Chair, Mark Montoya. The Electric Light Parade is scheduled to take place on the town's historic Main Street on December 6 and 7 and will begin at 7:00 pm both Friday and Saturday night.  The parade registration, along with line-up begins at 5:30 pm on Locust Street and drivers will be required to stay with their floats at all times.
Individuals, families and businesses are encouraged to submit a float in the annual parade as this is a great way to advertise for free. "I always push that idea for families it could become a Christmas tradition you know to get together, this weekend a lot of people are coming home for Thanksgiving. You really can put a float together in about two to three days because like you said before it doesn't have to look good during the day it just has to have lights on it and it really doesn't take that long, our committee has put a float together in like two nights," explained Montoya. On Saturday night, immediately following the parade, the grand finale will be a firework show choreographed to music for everyone to enjoy.
It's quite easy to submit a float application as Montoya explains, "You can either visit our website www.utahschristmastown.com or you can call me at (435) 650-4180 and I can give you that information or you can find us on Facebook." To see the entire schedule of Helper Utah's Christmas Town Celebration, visit the website or Facebook page.