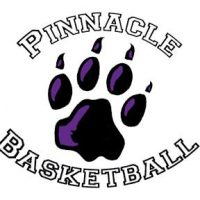 Pinnacle basketball fell to 1-2 on the season after losses last Tuesday and Wednesday to Wendover and Altamont.
The Panthers have been getting good production from a pair of seniors, Benjamin Scott has been averaging just under 14 points per game and Jordan Thomas with just under 10 points per game. It's a very long pre-season so Pinnacle still has plenty of games to go before they play their first region game on January 14, a home match against Green River.
Below is a recap of both games:
Tuesday November 26: Wendover 84 Pinnacle 41
In the first of two games in two nights the Panthers faced the Wendover Wildcats. Even though the Panthers kept it close only being down by four at the end of the first quarter, the Wildcats would outscore Pinnacle 25-7 in the second and never looked back taking the 84-41 victory.
Benjamin Scott would lead the way for Pinnacle with 11 points and five rebounds. Mikey Vigil dropped in eight points on three-of-four shooting, Landen Hardy would go for five points and Jordan Thomas would add four points to go with his team high nine rebounds.
Wednesday November 27: Altamont 63 Pinnacle 53
On Wednesday night the Panthers welcomed the Altamont Longhorns to their gym. Pinnacle would keep this game close going into the locker room down by just four points at the half. Altamont would increase their lead to eight by the end of the third quarter and come away with the 10 point win.
Led once again in this game by Benjamin Scott with a team high 21 points and 14 rebounds the Panthers remained competitive throughout the game. Landen Hardy had five rebounds to go along with his eleven points and Christian Winder added eight points on four-of-six shooting.
Pinnacle will take to the court again on Wednesday as they travel to Gunnison Valley. Their next home contest will be on December 6 as they will welcome in Panguitch. Tip-off for that game is set for 7:00 p.m..
Check with Castle Country Radio for the latest updates on these games as they become available.