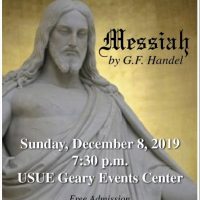 On Sunday, Dec. 8, the Eastern Utah Chorale and Orchestra will perform the 71st annual Handel's Messiah at Utah State University Eastern.
The concert will begin at 7:30 p.m. in the Geary Events Center.
USU Eastern's own Larry Martin will conduct the chorale and orchestra, which is comprised of university and community musicians.
Messiah is an English-language oratorio composed in 1741 by George Frideric Handel, with a scriptural text compiled by Charles Jennens from the King James Bible, and from the Coverdale Psalter, the version of the Psalms included with the Book of Common Prayer.
It was first performed in Dublin on 13 April 1742 and received its London premiere nearly a year later. After an initially modest public reception, the oratorio gained in popularity, eventually becoming one of the best-known and most frequently performed choral works in Western music.
It has been a staple in Castle Country for over 70 years.