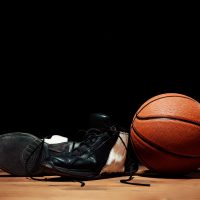 The Utah High School Activities Association released the initial RPI standings for 1A Boys basketball. The RPI system will be used for seeding come playoff time, they will be updated weekly in an effort to give teams a better idea as to where they stack up against the other teams in their classification.
The first rankings came out on December 19 and at that time Pinnacle sat in the No. 13 spot with Green River three spots ahead of them in the No. 10 position. As of the latest poll on the 26th of December Green River has dropped to No. 13 and Pinnacle has climbed on to No. 12.
Valley, a team from Orderville in Southern Utah claims the No. 1 space with a 7-2 record. Wendover, owners of a 6-1 record hold the No. 2 spot. No. 3 belongs to Piute with a 6-2 record. Intermountain Christian sits in the No. 4 position and Mount Vernon rounds out the top 5.
Pinnacle winners of four of their last seven games sit at 5-7 on the season. They will take to the court on January 3 when they travel to Dugway to take on the Mustangs. The Panthers defeated them on December 13, 69-48 as part of the Panther Winter Classic. They will face Tabiona the next day in Price.
Green River has won three of their last six games and are sitting at 5-4. They will face Monticello at home on January 3. On January 7 they will head to Dugway and then will play Pinnacle in Price on January 14 as both teams will open Region 19 play.
The RPI standings are determined by three statistically categories:
*MWP (Modified Winning Percentage): Divide the number of possible points by the number of total available points from games played accounting for the adjustment between classifications.
*OWP (Opponents Winning Percentage): Average of the winning percentage of a team's opponent.
*OOWP (Opponents' Opponents Winning Percentage): Same process as OWP except the calculation is with the opponents of the team's opponent.
Below is the RPI rankings for 1A:
| Rank | School | RPI | WP | OWP | OOWP | W-L |
| --- | --- | --- | --- | --- | --- | --- |
| Rank | School | RPI | WP | OWP | OOWP | W-L |
| 1 | Valley | 0.711297 | 0.777778 | 0.734114 | 0.532699 | 7-2 |
| 2 | Wendover | 0.685580 | 0.924643 | 0.492647 | 0.593320 | 6-1 |
| 3 | Piute | 0.646947 | 0.768750 | 0.574750 | 0.547735 | 6-2 |
| 4 | Intermountain Christian | 0.628974 | 0.958219 | 0.370201 | 0.488029 | 9-2 |
| 5 | Mount Vernon | 0.603941 | 0.945000 | 0.379087 | 0.371531 | 9-1 |
| 6 | Water Canyon | 0.583193 | 0.691791 | 0.492823 | 0.546738 | 3-2 |
| 7 | Panguitch | 0.580050 | 0.717662 | 0.491286 | 0.482358 | 6-3 |
| 8 | Bryce Valley | 0.574361 | 0.500000 | 0.651503 | 0.568798 | 4-4 |
| 9 | Manila | 0.555362 | 0.682370 | 0.455834 | 0.500403 | 5-3 |
| 10 | Tabiona | 0.509400 | 0.494444 | 0.525587 | 0.506937 | 4-5 |
| 11 | Monument Valley | 0.460202 | 0.409826 | 0.491319 | 0.498717 | 2-4 |
| 12 | Pinnacle | 0.450279 | 0.454167 | 0.449301 | 0.444460 | 5-7 |
| 13 | Green River | 0.450235 | 0.555556 | 0.327523 | 0.485017 | 5-4 |
| 14 | Milford | 0.445487 | 0.285714 | 0.578873 | 0.498258 | 2-5 |
| 15 | Rich | 0.445225 | 0.351279 | 0.521101 | 0.481363 | 2-5 |
| 16 | Wayne | 0.429398 | 0.250000 | 0.549441 | 0.548106 | 2-6 |
| 17 | Whitehorse | 0.396493 | 0.324213 | 0.432673 | 0.468694 | 2-7 |
| 18 | Diamond Ranch Academy | 0.359910 | 0.125000 | 0.528684 | 0.492183 | 1-7 |
| 19 | Telos | 0.342356 | 0.287500 | 0.355483 | 0.425815 | 2-6 |
| 20 | Dugway | 0.328056 | 0.195455 | 0.431212 | 0.386946 | 2-9 |
| 21 | Tintic | 0.327600 | 0.000000 | 0.616495 | 0.405012 | 0-8 |
| 22 | Utah School for the Deaf & Blind | 0.261502 | 0.200000 | 0.259410 | 0.388691 | 1-4 |
| 23 | West Ridge Academy | 0.230721 | 0.100000 | 0.306027 | 0.341552 | 1-9 |
| 24 | Navajo Mountain | 0.000000 | 0.000000 | 0.000000 | 0.000000 | 0-0 |
| 25 | Escalante | 0.000000 | 0.000000 | 0.000000 | 0.000000 | 0-0 |