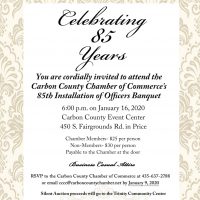 The Carbon County Chamber of Commerce is busy this month with their upcoming annual Installation Banquet and a few Ribbon Cutting Ceremonies. This year they will be hosting their 85th Installation of Officers Banquet on Thursday, January 16 at 6:00 pm at the Carbon County Event Center located at 450 South Fairgrounds Road in Price.
"So, our installation banquet is where we install our new board for the chamber. So that means I have 13 bosses, which I love them all, so that's just them getting installed into their new positions. We have some that are coming off and some new ones coming on. So, it's just going to be a really big celebration. Our theme for this year, it's actually our 85th anniversary for the chamber so we're doing a big birthday party," said Executive Chamber Director, Deserae Stevenson. The cost to attend is $25.00 for chamber members and $30.00 for non-members. Individuals interested in attending must RSVP no later than Thursday, January 9 by either calling the Carbon County Chamber of Commerce office at 637-2788 or email cccc@carboncountychamber.net
Along with the upcoming Installation Banquet, there is some ribbon-cutting ceremonies scheduled for the month. "So the first ribbon-cutting that we have coming up is January 10 at noon and that's going to be at the Party Express location, they have a new owner and they have actually expanded a couple of doors down for an arts and craft store as well. So then the next one that we have is Marietti Monuments, its gong to be another ribbon cutting. This is a new ownership and they renamed everything but its going to be January 15 and that's going to be a noon, again that's gong to be located at 45 West 100 North in Price," explained Stevenson. The community is welcomed to join the chamber in wishing both businesses congratulations and thank them for serving community members in Carbon County.
To learn more about what the Carbon County Chamber of Commerce can offer please visit their website at https://carboncountychamber.net/