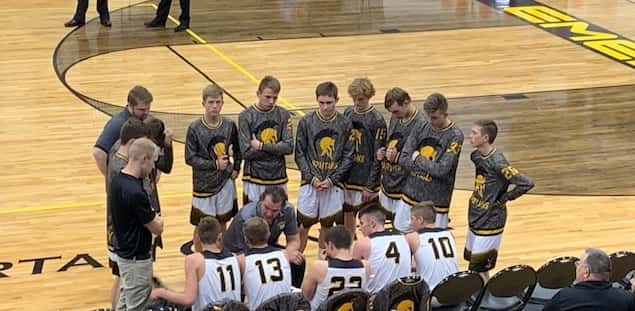 The Emery Spartans earned its second victory in as many days after dominating the North Sanpete Hawks 68-33 Saturday night at the Spartan Center in Castle Dale.
Fresh off of a win over the Carbon Dinos on Friday night, the Spartans held the Hawks to only six points through the first 12 minutes of the second half. The 22-4 run in third quarter was more than enough for Emery to create separation and earn the blowout win.
"I think we are streaky," said senior Brax Jensen. "Some nights we don't miss and other we can't get anything to fall. Tonight we made our shots in the first quarter, so it dictated the rest of the game."
Senior Jordan Ekker led the way with a game-high 19 points, 15 of which came from the three-point line. Jensen was equally as effective as he ended with 15 points. Seth Justice also reached double-figures chipping in with 10.
Now 9-3 overall, Saturday's game was the third in four days for Emery. After suffering a loss on the road to Richfield Wednesday night, the team regrouped for back-to-back wins.
"I think I felt best tonight as funny as that sounds," said Jensen. "The first two games this week I felt slow."
While the offense fired on all cylinders the Spartans set the tone defensively. Up 13-5 at the end of the first quarter the Emery lead dwindled to four at 19-15. From that point the team locked up North Sanpete, allowing just four points throughout the third quarter and half of the fourth.
Ty Morley paced the Hawks with nine points in the team's third straight loss. Forward Robert Olson scored seven points, five of which came in the second quarter. Brady Jacobson finished with five.
Now ranked No. 4 in the current UHSAA RPI, the Spartans will enter a crucial week with two region home games. Up first will be a meeting with No. 9 Grand on Wednesday, following by a showdown with No. 3 San Juan.
Both games will air on KOAL 107.3 FM, 750 AM and at castlecountryradio.com.