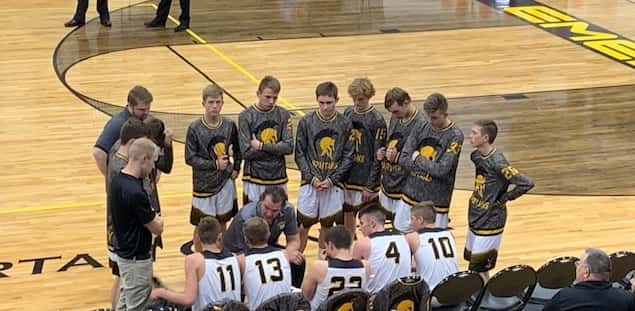 The Emery Spartans extended their latest winning streak to three with a dominating 71-41 victory over the Grand Red Devils Wednesday night at the Spartan Center in Castle Dale.
Holding just a three-point lead at the end of the first quarter, Emery outscored the Red Devils 19-7 in the second quarter. The comfortable 15-point advantage ballooned to 26 entering the fourth, making the final period a formality.
"We didn't shoot the ball real well in the first half, but we kept plugging away," said head coach Todd Jeffs. "We kept finding ways to get to the basket and setting each other up for shots. It did have a strange feel for the game though."
Brax Jensen scored 18 of his game-high 24 points in the second half and handed out seven assists to lead the Spartans. Justin Rasmussen recorded a double-double with 16 points and 10 rebounds, while Seth Justice chipped in with 10 points.
Rasmussen used the traditional big man offensive tactics by playing with his back to the basket. Relying on entry passes and low post moves, he provided his largest scoring output of the season.
"I don't really see many smaller players against me at center," said Rasmussen. "When I saw that he was smaller I tried it and it kept working. It was really fun."
Grand senior Kaine Allred was the lone Red Devil to reach double-figures as he finished with 14 points and 14 rebounds. Milo Birdwell, Rafe Saunders and Tyler Bohannon each ended with six points a piece.
Wednesday's win moves Emery to 10-3 overall and 2-1 in region play. After blasting through North Sanpete on Saturday, the Spartans have recorded their last two wins by a combined total of 65 points.
Now No. 4 in the latest RPI rankings, the Spartans will welcome in No. 3 San Juan for an extremely important Region 12 game Friday night. Both teams currently hold league records of 2-1, placing them in a three-way tie with South Sevier for second in the division.
Live coverage of Friday's contest will begin on KOAL 107.3 FM and 750 AM at 6:30 p.m.. The live feed will also be available at castlecountryradio.com.