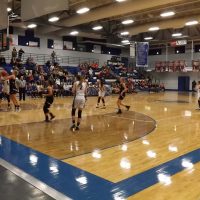 The Carbon Lady Dinos were on the road in Moab  to face the Red Devils in a region match-up. After holding them to 13 points in the first half Carbon would only allow two points in the entire second half taking down Grand 84-15.
The Dinos jumped out early scoring 31 points in the first quarter, and that point it was only a matter of playing three more quarters for Carbon, who notched their third straight region victory.
Carbon was led by Abbie Saccomanno with a game high 20 points to go along with her nine rebounds and four assists. Jordan Bianco scored 15, grabbing three rebounds and dishing out six assists and Cora Lamborn added 15 with five rebounds. The Dinos were on fire shooting 54% from the field including 4-of-10 from behind the three point line with 10 Dinos scoring in the game.
For Grand Megan Zunich had nine points, Josalyn Murphy chipped in four and Madison Munger with two. The Red Devils have yet to win a region game sitting at 1-12 overall.
The Dinos are sitting at 12-5 and 3-1 in conference play. They are also ranked at #5 in the 3A State RPI, they are heading into arguably the toughest games on their schedule next week as they will travel to Richfield the #4 team in 3A on Tuesday and then will travel to Monroe to take on South Sevier the #1 ranked team.
This will be the first time they have faced Richfield all season. Back on January 7 South Sevier came to Price for the region opener and left town with a 59-39 victory. Going on the road into these hostile environments will put Carbon to the test as they prepare for post season play which is just around the corner.
Go to castlecountryradio.com for the latest updates on Carbon High Athletics.