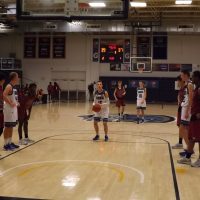 The Carbon Dinos suffered a 65-60 loss to the Layton Christian Eagles in a special Martin Luther King Jr. Day non-region contest at the BDAC on the campus of USU Eastern.
Playing for the second time in four days, the Dinos held a slim 33-31 lead at the end of the first half. Layton Christian captured the lead entering the fourth quarter and never looked back in the eventual win.
"This is an athletic team, with a couple of really good shooters," said head coach Jared Butler. "We out rebounded them and we are doing a lot better with our hustle. My biggest concern right now is offensively we are a little bit impatient."
As a team the Dinos shot just 30-percent from the field, including a 6-28 mark from deep.
Senior Brady Gagon posted a game-high 24 points on eight made field goals. Kaleb Nelson continued his consistent play with 11 points, eight rebounds and two steals. Keenan Hatch recorded 10 points, six rebounds and two assists.
Despite Monday's non-region loss the Dinos continue to show improvement on both sides of the ball. Butler said that's been apparent since the Christmas Break.
"The effort is there and we just need to be more consistent on offense. I think our loss to Juab was a wake up call and I've been happy with what I've seen."
Now 6-9 overall and 1-3 in Region 12 the Dinos are currently No. 15 in the latest RPI rankings. Five of Carbon's final six opponents are ranked inside the top 10.
The Dinos will take Tuesday off before returning to the court on Wednesday with a home contest against the Richfield Wildcats. That game will represent the final game of the first go-around of Region 12 play.
Live coverage of Wednesday's game will begin on KRPX 95.3 The Peak at 6:30 P.M.. Tip-off will follow shortly after at 7:00.