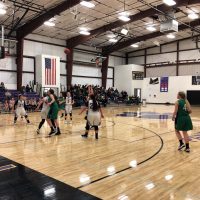 The Pinnacle Lady Panthers faced two of the top three teams in the state on the road over the weekend. Pinnacle is in a little slump lately dropping two of their last three. And life wouldn't get any easier as they made the long road trip to take on Whitehorse (No. 2, 13-3) and Monument Valley (No. 3, 14-4).
The Panthers are ranked No. 14 and now sit at 8-9 on the season with just four games left.
Below is a recap of both games:
January 24- Whitehorse 73-35 Loss
In the first game of a two day road trip the Panthers took on the Whitehorse Raiders. Down by 12 in the first quarter, Pinnacle would get as close as 11 at halftime but Whitehorse came out of the locker room for the second half and would go on a 30-3 run putting the game out of reach of the Panthers.
Kemery Stuckenschneider and Stephanie Sasser would lead the way with 14 points each. Stuckenschneider would grab two rebounds to go with her two assists and two steals, Sasser would pull down eight rebounds also. Kylie Swasey would add four points in the loss.
January 25- Monument Valley 74-37 Loss
On Saturday afternoon they would travel to Monument Valley to face the Cougars. Slow starts in the first and third quarters would doom the Panthers. In those two quarters alone Pinnacle was outscored a combined 48-10.
Stephanie Sasser would lead the Panthers with 19 points to go with her 14 rebounds. Destinee Andrews scored eight and Alyssa MacDonald had seven.
The Panthers won't take to the floor again until February 4 when they will travel to Green River to face the Pirates. These two teams faced each other back on January 14 with Green River taking the 43-33 win. After that they will travel to Wendover for a non-region match. On the 8 of February they will return home for their final two games.
Check back with Castle Country Radio for the latest updates on Pinnacle Athletics.