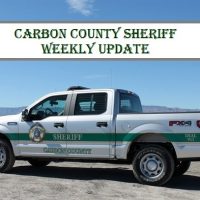 The Carbon County Sheriff weekly update focused on how the Search and Rescue Team spent that past weekend up in the backcountry rescuing individuals who had gotten themselves stuck in the snow and mud.
"So above Pinnacle Peak we were out all Saturday night rescuing folks, there were three different vehicles stuck up there that we saved but there were more that didn't call us. But anyway, you think it's good, and some of that has been plowed so its looks like its great, you get off of the trail at all that's been plowed, its still deep snow and under that deep snow is deep mud and you're going to get stuck," stated Sheriff Jeff Wood. The Search and Rescue team are only allowed to rescue individuals and not their vehicles. Right now, that main road up to the railroad tracks seems drivable but beyond that it is still snow-packed roads.
"So I'm just giving people a heads up, we will come and help and we're happy to help. We brought, I want to say, six or seven people down Saturday night/Sunday morning but their vehicles stayed. Just keep in mind, you're probably going to get stuck, you're probably going to tear something up. One of those vehicles had torn up their transmission trying to get out. Its not good for you, it's not good for your vehicles, I would wait another few weeks," explained Sheriff Wood. Although the temperatures are warming up around town it's still quite cold and full of snow up in the higher country.
Lately, there have been some issues in regards to parking at the Carbon High School and because of this the school's resource officer who works through the Carbon County Sheriff's Office has been issuing parking tickets. "Over the last year I have had a lot of issue with parking problems and I've had a lot of issue with irate people that got parking tickets and you know we're to the point now that we have asked, we've done the warnings, we've done everything under the sun, we've kind of exhausted all of our avenues, so we are to the level that we are writing tickets," stated Sheriff Wood. The tickets can go one of two ways, it can be a $15.00 ticket that can be handled on-campus or it can go through the Carbon Justice Court which would cost violators $40.00. The parking issues range from taking up more than one parking stall to parking in designated handicapped areas without the proper permits. Parents are urged to speak with their student drivers about the issue to ensure that they are understanding the legal areas to park.
To keep informed on the Carbon County Sheriff's Office visit their Facebook page.