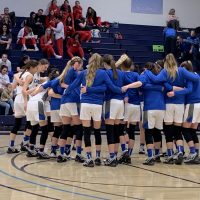 The Carbon Lady Dinos rolled past the American Leadership Academy Eagles 50-32 in the second round of the 3A State Championship Tournament Friday afternoon at the USU Eastern BDAC in Price.
Entering the tournament as the No. 5 seed, Carbon was paired with No. 12 American Leadership. Holding an 11-8 lead midway through the first quarter, Carbon closed on a 7-0 run to take a double-digit lead into the second. From that point on the Lady Dinos managed complete control for a comfortable win.
Senior Abbie Saccomanno posted a team-high 12 points to lead Carbon in a balanced scoring effort. MaKenna Blanc scored eight points and recorded six rebounds, while Sydney Orth also score eight in a reserved role.
Up 36-16 entering the break, the Lady Dinos put on a defensive clinic in the third quarter as they outscored ALA 11-2. The two points the Eagles came at the foul line as Carbon kept them without a field goal for the length of the period.
Megan Edwards pushed the ALA offense with 21 points on seven makes in 16 attempts from the field. Alexis Webster scored six points, all of which came from the three-point line. Kenadi Morrill and Salma Mendez combined to score five points.
Friday's win moves Carbon into the quarterfinals on Feb. 20 at 4:10 p.m. against the Richfield Wildcats. The two teams met twice this season, both closely contested games ended in Richfield's favor.
The venue for the quarterfinals will now shift to Salt Lake Community College. A win for Carbon would put them in the semifinals on Feb. 21. Each team is scheduled to play at least two game in Salt Lake.
Click HERE for an updated view of the 3A girls state tournament bracket