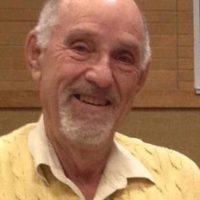 John Mitchel Justice, 73, passed away peacefully in his home in Clawson, Utah on the morning of March 19, 2020.
John was born on October 28, 1946 to George and Esther Justice (Majors) of Huntington Utah. John married Sandra Irene Justice on December 8, 1967 in the Manti temple. John was raised in Huntington Utah and was taught from a young age the importance of hard work and family.
He was a faithful member of the Church of Jesus Christ of Latter Day Saints. He was called to serve a full time mission in Southern Australia, and as a father he always taught his children the importance of the gospel. John loved to work outside and was known for being the "Master of Many Talents", which included woodworking and gardening, but his favorite was hauling dirt in buckets with his grandkids and watching them play outside.
John and Sandra lived in many areas in Utah but they settled in Clawson and this is where they chose to raise their six children. They argue every day about who was, and still is, "Dads Favorite Child".
John was preceded in death my his parents: George and Esther Justice, brother: Orson Justice, sisters: Esther Gertson, Marie Bromley, and Darlene Fields
He is Survived by his Wife: Sandra Justice of Clawson, brother Mark (Julie) Justice of Huntington, Children: Brian (Bobbi) Justice of Green River WY, Judy (Al) Shakespaere of Verdigre NE, Jamie (Robert) Higbee of Green River WY, Janet (Ben) Beagley of Saratoga Springs UT, James Justice of Clawson UT and Jerri Lynn (Walter) Penate of Huntington UT.
John was the foundation of his family. He will be dearly missed by all who knew and loved him
UNTIL WE MEET AGAIN!
A graveside service will be held on Monday, March 23, 2020 at the Clawson Cemetery in Clawson, Utah at 11:30 am.
Family and friends may sign the guestbook at www.fausettmortuary.com