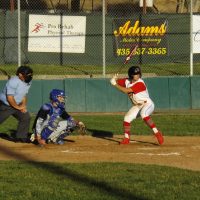 As state wide COVID-19 restrictions continue to soften, the Helper Merchants are prepping for a condensed 2020 American Legion baseball season that is currently expected to begin in June.
"The spring season was rough with no sports," said second year manager Dakota Cisneros. "I've had a bunch of kids anticipating a season. We've ran a couple of practices so far and everyone seems to be really excited."
Tryouts for this year's team will take place Monday, May 25 and again Tuesday, May 26 at 6:30 PM at Ernie Gardner Field in Helper. Practice to prepare for the tryouts will run Tuesday, May 19 and Thursday May 21, also at 6:30.
Sports within the state of Utah have been on delay since the 'Stay Safe, Stay Home' order. Last Thursday Utah Governor Gary Herbert said Utah would move from Orange (moderate) to yellow (low risk), with the exception of five locations. That order placed new life in the summer baseball season.
With each state in the country dealing with separate restrictions, there will be no national or regional tournament for state champions. Utah's competing teams will be divided by regions, limiting the travel for each squad.
Cisneros will once again coach the Helper squad, which has been around for over 55-years. Last season the team put together a dynamic regular season, before falling short in the state tournament.
Typically the legion team is made up of kids who are seasoned baseball players and have adequate high school experience. For that reason Cisneros will also field a team for kids 17 under and another that is 18 and under.
"We are going to run two baseball programs again this summer to try to give the kids in Carbon and Emery county a chance to get some baseball in," said Cisneros. "I'm excited to give the younger kids some more experience on the baseball field as well."
Those seeking more information on tryouts or the upcoming season may contact Cisneros at 435-650-7580.