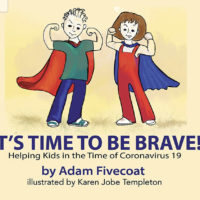 Local author, Adam Fivecoat and local artist, Karen Jobe Templeton have worked together to develop a book called It's a Time to Be Brave: Helping Kids in a time of Coronavirus 19. Castle Country Radio was able to sit down and speak over the telephone with the author and artist about their project.
"So I was sitting there thinking about how disruptive this whole pandemic has been and not only for adults but for kids as well. You know it might even be more disruptive for them. So I decided to write a book to help kind of assure them, to let them know that the things they're doing, even the little things, you know helps us get back to normal," said Fivecoat. The idea was to let kids know that they are brave during these difficult times while opening the door for a chance to ask questions or voice their concerns.
Fivecoat enlisted the artistic skills of Karen Jobe Templeton to design the illustrations for the book. "Adam's ideas were so good, he had a lot of images in his work its pretty easy with that to just start playing with ideas, putting ideas on paper and then we would talk more and there were several pages that I just couldn't come up with ideas and Adam provided something its really be a collaborative work," stated Templeton. The duo worked closely with professionals who work with children on a daily basis to get their input on the illustrations for the book. This research allowed for colorful and amusing pictures to be used in the book. The book can be purchased on Amazon either digitally or paperback.