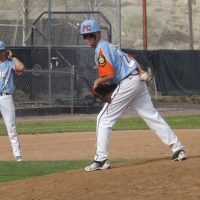 As the Utah American Legion baseball season gets set to begin in June, the Price Raptors are preparing to once again field a team for the summer months.
Led by manager Willie Ellington, Price has started the process to put together a team with the restrictions that have been placed on the league. Price will field a team in the 17U league and compete against squads placed in their region, which has yet to be determined.
"We were all prepared. We had our fundraiser set up and ready to go, then it all went south," said Ellington on KOAL's Drive Time Sports. "Now we are just trying to ramp that up again and get the kids excited about playing."
A complete schedule has yet to be released, while teams receive clearance from health departments to host games on their home field. With COVID-19 restrictions loosening, a final format and schedule should be available soon.
"We are looking to play three games a week," Ellington said when talking about the schedule for the upcoming season. "There is a great chance we'll have double-headers on the weekend. So that means a lot of opportunities for the kids to play ball.
Sports within the state of Utah have been on delay since the 'Stay Safe, Stay Home' order. Last Thursday Utah Governor Gary Herbert said Utah would move from Orange (moderate) to yellow (low risk), with the exception of five locations. That order placed new life in the summer baseball season.
With each state in the country dealing with separate restrictions, there will be no national or regional tournament for state champions. Utah's competing teams will be divided by regions, limiting the travel for each squad.
"I think we are going to have a great season," said Ellington. "I know Helper is going to have a 17 and under team, so we can keep that local thing going and that's really big for the kids and this area."
Those interested in playing for Price are encouraged to contact Ellington by phone at 435-637-7483.