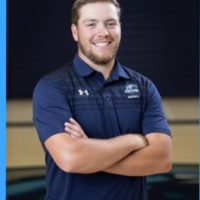 Kirk Haney's first season as manager of the USU Eastern baseball team was cut short due to the COVID-19 pandemic. Still, the sample size was large enough to spark optimism for the program moving forward.
Playing just 20 of the scheduled games in 2020, the Eagles improved their win total from 2019 by seven. Finishing 11-9, the team won nine of it's final 10 games and accumulated a record of 9-3 at home.
"This group, through all the adversity, worked very had in everything they did," said Haney following the shortened season. "We had a strong sophomore class, with freshmen that were ready to come in and do their part. In my first season of coaching I couldn't have asked for anything better."
Haney comes from a baseball family. His father, Scott Haney, has been coaching high school baseball for 34 years and is the current head coach at Salem Hills High School. Haney played for his father at Salem Hills before graduating in 2012.
After high school Haney served an LDS mission in Texas. Upon returning, he came to USU Eastern and played under former manager Scott Madsen from 2015 through 2017. In 2018 he became an assistant coach and held that position until taking over the program in 2020.
Just 26 years old, Haney is by far the youngest coach in the Scenic West Athletic Conference. The average age of the coaching staff sits at 25, which is one of the youngest in the nation. The youth movement in the dugout has already paid dividends in connecting with players.
"I think I know the grind of being a student-athlete, because I myself am still a student at USU Eastern," Haney said. "We really try hard to communicate with our players. I think having the youth of our coaching staff, we know where the kids are in life and can relate to them."
While the team enjoyed success early on, only four conference games were played. The Eagles alternated wins with Colorado Northwestern as they finished 2-2 in the division.
Aside from an improved win total in 2020, the Eagles also enjoyed a burst of offensive success in the latest season. As a team USU Eastern averaged eight runs per game and saw an increase in batting average from .240 in 2019, to .310 in 2020. When the season came to its untimely end, the squad had four players batting over .400.
"We are building a culture that we want surrounding this team," said Haney. "We play great competition in this conference. By being great teammates and good people off the field, we can compete with those teams on the field."
Listen to coach Haney's interview below: