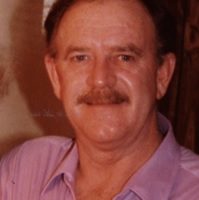 Our beloved George J. Tiller left us broken hearted on June 16, 2020 after suffering with health complications.
George was born January 17, 1942 in Red Jacket, West Virginia to Charles and Merle (Williamson) Tiller.
He married Margie L. Olsen February 14, 1965 in Carlsbad, New Mexico; they had three children together: Stewart, Tim, and Kristin. They later divorced. He then married Susan (Bowman) Tiller June 18, 1992 in Battle Mountian Nevada.
George honorably served in the US Army National Guard.  He was the life of the party, his story-telling and contagious laugh drew people to him. He never met a stranger. Give him 10 minutes and you were friends for life. He would sing Johnny Cash with the confidence of having an amazing voice. He was playful in everything he did; if you were having a bad day he always had a way of making everything better. He was a member the Davy Crockett Masons in Texas. He was incredibly talented and successful in anything he put his mind to. He was an amazing athlete; he loved playing men's slow pitch softball. He loved to fish and hunt. He loved traveling in his motorhome going to see everyone he loved. His favorite thing was to sit at a table surrounded by his family playing cards. Family meant the world to him. He left a hole in everyone's heart who knew him. We know he's sitting by a campfire in heaven telling his stories and dad jokes.
He is survived by his wife Susan Tiller, Show Low, AZ; Bill (Jeri) Tiller, San Antonio, TX, John (Connie) Tiller, Carlsbad, NM, Arlene (Willie) Karr, Las Vegas, NV, Jo Tiller, Cedar Creek, TX; children, Stewart (Teresa) Tiller, San Antonio, TX, Tim (Keri) Tiller, Laramie, WY, Kristin Cox, Price, UT; step-children, Kim Callan (Brian Ramsey), Scottsdale, AZ, Kyle (Kristine) Callan, Burnsville, MN; 16 grandchildren and eight great-grandchildren; and many nieces and nephews, whom he loved very much.
Preceded in death by his parents; step-daughter, Krista Callan; brothers, Eli and Dennis Tiller; granddaughter, Daina Tiller; sister-in-law, Bobbi Tiller; niece, Jodi Tiller; nephews, Kelly, and Shane Tiller, son-in-law, Brandon Kimber.
Until we meet again keep the campfire going.
His last wishes is to have his ashes buried with his granddaughter Daina in the Wellington Cemetery. A memorial will be set for a later date.